The medical community recently launched a society to research how to apply the metaverse, a convergence of virtual and physical space, to the healthcare industry.
On Thursday, professors from Seoul National University's College of Medicine launched the "Medical Metaverse Research Society."
The group aims to research ways to use the metaverse in patient care and medical education and connect it to the technology industry to solve problems in the clinical realm. It will also seek to train experts in the medical metaverse and create a virtuous circle between the technology industry and healthcare.
At the company's groundbreaking ceremony, Prof. Park Chul-kee of Seoul National University Hospital's Department of Neurosurgery, who leads the group, said the metaverse was in its infancy. Yet it would be a part of people's lives in all areas of health, including medical education, disease diagnosis and treatment, and disease prevention.
"The essence of the metaverse is 'unity'. If it's possible to share and experience a specific three-dimensional space and time, whether in reality or virtual reality, with other people, that's a metaverse," Park said.
If members of the medical metaverse research association work together, they will soon find out how the metaverse will affect the healthcare field, he added.
Kim Jeong-eun, dean of SNU College of Medicine, said the medical school and SNUH have many researchers working hard to develop and apply metaverse technologies such as virtual reality, augmented reality, digital therapy and telehealth.
"I hope these efforts can be carried out in the search society through the metaverse, which is an integrated platform," he said.
Medical IP CEO Park Sang-joon, who is also an Adjunct Associate Professor in the Department of Radiology at SNU College of Medicine, explained how the metaverse should be used in future healthcare with his presentation, "The Immersive Era high-throughput knowledge: Metaverse in healthcare.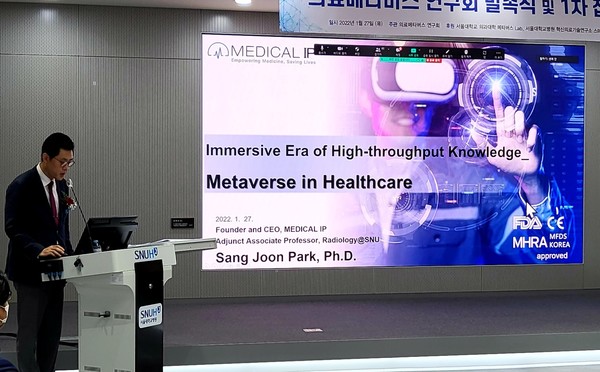 Medical IP, a medical metaverse company based on AI-based analytics technology, is the first venture company spun off from SNUH.
Park said the metaverse is a new way to meaningfully use patient health information. In the field of technological development, he said that its emergence and importance had already been predicted.
Park defined the metaverse as an interaction with digitized patient information using sensors as a medium. Just as people upload their comments and photos to social media and share their daily lives, in the future, patient life diary data will be recognized through their hospital visits, he explained. .
"According to the 'Hype Cycle' indicating the level of technology readiness, AI, AR and VR technologies have already been developed and verified in 2017. These technologies did not emerge overnight," Park said.
Hype Cycle predicts that if people create a digital platform using AI using existing AR and VR devices, new technologies will appear in the clinical environment, he continued. "The emergence of the metaverse was predicted by AI-powered healthcare innovation."
The medical community's interest in the technology started a long time ago.
Park took the example of an article published in 1998 by Chung-Ang University Hospital on the experience of using Adam, an anatomy teaching program using a CD-ROM.
"At the time, the authors said that Adam was not beneficial because teaching on the computer was not very different from training on a corpse. But, they noted that such an experience could be an opportunity (for medical advancement)," Park said.
What was important was that doctors were very interested in cutting-edge technology even in the late 1990s, he said.
He predicted that the medical metaverse would become a tool for visualizing patient treatment history, medical simulation, clinical practice, and medical education.
"Ultimately, the medical metaverse will be advanced through existing technologies and integrated with new themes like telehealth and digital therapy."