Olympus Korea held a press conference on Thursday to announce the release of EndoBRAIN-EYE, an AI-backed colonoscopy diagnostic support system.
However, the new AI technology must overcome many challenges to be used by clinicians in the field, industry observers said.
EndoBRAIN-EYE is an assistant software that helps doctors diagnose legions through deep learning based on approximately 3.95 million colonoscopy images and analyze them quantitatively.
If a legion such as a polyp or tumor is detected during a colonoscopy, a notification sound will play and colors will display around the legion.
Olympus Korea pointed out that EndoBRAIN-EYE demonstrated 98% sensitivity and 93.7% specificity in a clinical trial.
The software can be used with the EVIS LUCERA ELITE and EXERA III gastrointestinal endoscopes from Olympus. Medical institutions equipped with these products can install and use the software.
However, it is debatable whether clinicians would be willing to pay the installation fee of EndoBRAIN-EYE, which costs millions of won.
When Olympus released EndoBRAIN-EYE in Japan in 2020, it priced around 3 million yen ($25,263). Olympus Korea has not yet determined the price in Korea.
The success of commercializing EndoBRAIN-EYE depends on whether or not it obtains health insurance benefits. Olympus Korea is also aware of this circumstance.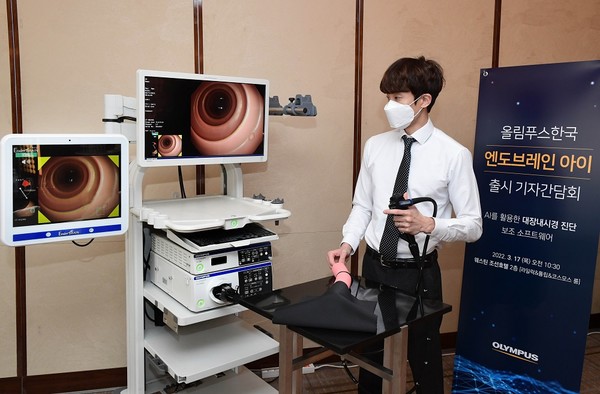 Park In-je, head of gastrointestinal and respiratory business unit at Olympus Korea, said that it usually takes clinicians some time to use a medical device with innovative technology.
"External factors, especially the insurance policy, play an important role. Olympus will make efforts to help shape the related market after the launch of the AI-supported system," he said.
EndoBRAIN-EYE is also non-refundable in Japan, but the company is making multifaceted efforts to address this issue, he continued. "It's the same in Korea. We will help create an environment to use AI-powered systems in endoscopy," he added.
Many developers are working on new AI technologies for medical use, but no medical device has won reimbursement in Korea. Indeed, most AI-powered products have failed to obtain evidence of cost-effectiveness superior to conventional technologies or overcome adverse effects as much as the government wanted. EndoBRAIN-EYE has not yet secured data that has demonstrated better cost effectiveness or shorter procedure time than existing procedures.
Park said he is aware of the case and will be looking for various ways to obtain evidence.
He predicted that Korean doctors would use innovative products such as EndoBRAIN-EYE.
"As many hospitals use Olympus gastrointestinal endoscopy products, these experiences will help the new product establish itself in the market. This will naturally lead us to secure data," he said.